Joining your first team
For security purposes, this is a multi-step process. After downloading and installing the app, it's time to setup your account.
The DRIVN app as well as all team branded apps are available on both the Apple App Store and Google Play.
Unless your team has a branded app, search for "DRIVN3".
NOTE – If your team or club does have a branded app, DO NOT install the DRIVN3 app. Be sure to search for and install your team's branded app. If you are uncertain about the name, ask your coach or team administrator.
When you launch the app, you will be prompted for your email address. This will be your account ID, so don't use that fake one you created to collect spam.
Press "Next".
After entering your email address, you'll be asked for some basic info, First name, last name, & mobile number (again, use your real one ;-)). Enter that info and press "Next" to complete your registration.

Confirm your user details and press "Next".

The following screen will confirm your successful registration. Press "Next" to receive an authentication code. This will be sent via SMS to your phone as well as via email to the address you used for your account.

Enter the code you received.

(OK! You're in!)
You should have received a unique team "join code" from your coach or team manager. Have that ready.
Enter your team code into the "Redeem join code" field provided.
(If you are not immediately prompted to "Redeem join code", press "Join a team".)

Confirm your code and press "Join".

If the code you entered is correct/valid, you will see the "You have joined" message.

Press "Switch to" to go to your team's org.
Complete your Profile
Confirm again your basic details. Make sure your country code is included in your mobile number (The country code for the U.S. is +1). Also, make sure your Timezone is correct.
(Optional) If you plan to use the Translation feature, select your Language as well as the language into which you would like incoming chat messages translated. 
Press "Next".
Add your profile picture (rotate if needed) & press "Next".

All set!
Press "Finish" and you'll be brought right to your new team!
Joining a new team
These instructions are for existing users who are already members of at least one other team.
You should have a "join code" that was provided by your coach or team administrator. Have that code handy.
To log in, open the DRIVN3 app on your phone.
Next enter your email address (this will become your User ID) and press "Next".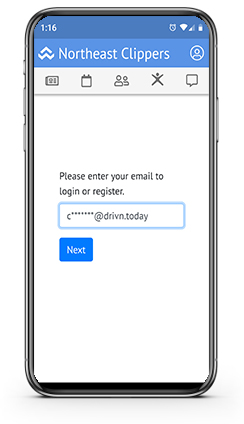 2. Press "Next" on the following screen.
A unique code will be sent to your phone via text and email. You should receive this within seconds. If you are unable to find it in your inbox, check your spam filter. Also, if there was a typo in the email address you entered, this will also cause a problem; check your phone for the text message. (It happens. 😏)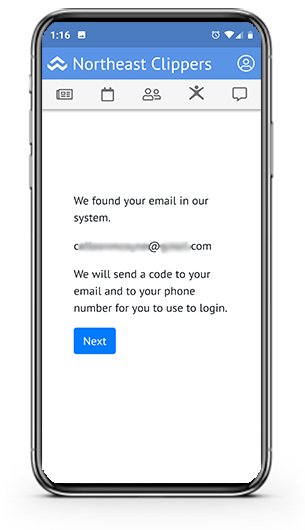 3. Once you have the code enter it in the provided field and press Next. *Note: Do not enter spaces between numbers in the code. Check out a video recording of this process here.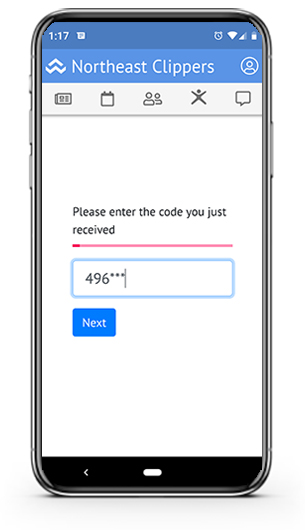 Once you have entered a valid code, your app will open to the most recent team you were in.
Press the icon in the upper right-hand corner.
Select "Join team".
Enter the code you were given in the field provided and press "Join".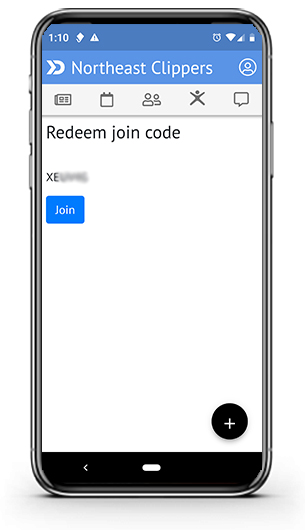 If you have entered a valid code, you will see a confirmation message. Press "Switch to" to enter your new team.